APS MESOMORPH
25 Servings
Mesomorph™ Competition Series
Supercharged Energy Formula
Ultimate Preworkout Complex with Creatine Nitrate
Strength, Stamina and Energy are they keys for any quality preworkout. Mesomorph® is the new King of concentrated preworkout performance supplements. This complete preworkout energy matrix is the only product on the market to deliver full clinical doses of its state of the art ingredients.
Mesomorph® has reviewed the research and compiled the data to introduce two of the new heavy hitter ingredients for unparalleled results with a new, scientifically-proven mind-blowing energy ingredient called "Senegalia Berlandieri". 
Mesomorph® utilizes muscle pump inducing exclusive, premium ingredients like Creatine Nitrate, Creatinol-O-Phosphate, 4,000mg of Beta Alanine and pre-workout power house Citrulline Malate. 
Whether you are in training for a sport, bodybuilding competition, competitive weight lifting or just beginners in exercise, this dynamic product is a "must have". As with any nutritional supplement, competitive athletes should check with your regulatory body before using this product.*
*FDA: These statements have not been evaluated by the Food and Drug Administration. This product is not intended to diagnose, treat, cure, or prevent any disease.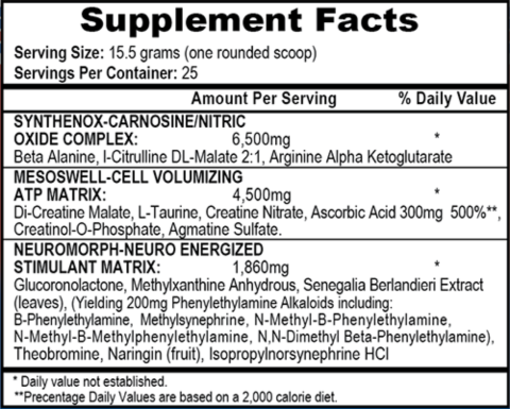 After tolerance has been determined, 40 minutes prior to workout mix one scoop of Mesomorph with 8-10 oz of water.  Stir adequately and consume immediately on an empty stomach.  On non-workout days, consume 1/2 scoop Mixed in water on an empty stomach.
Warnings: Pregnant or lactating women, diabetics, hypoglycemics and people with known medical conditions (including kidney or liver disease) should consult with a licensed physician and/or pharmacist proper to taking this product. Do not exceed recommended dosage.